KINOPOLIS, the longest-running and largest Polish Film Festival in Ireland, returns to the Irish Film Institute (IFI) for its 9th edition with some of the best and most recent Polish film productions. The Festival will run from 6-9th November 2014 and will present 4 feature films as well as 7 animations and 3 documentaries.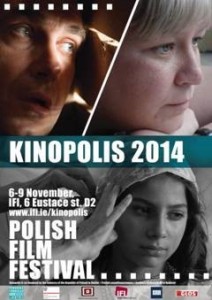 The festival will be officially opened on Thursday 6th of November by the screening of the film The Word directed by Anna Kazejak-Dawid, the revenge thriller on a coming-of-age drama.
This year's edition will have a main theme of "Polish Biographies" as the majority of the key films (Papusza, Jack Strong and The Mighty Angel) are based on the real stories of people whose lives have been dictated by the complexity of Polish history, cultural differences and struggles with the alcoholism.
In addition to the biopics, the programme includes also a selection of 3 documentaries directed by Paweł Łoziński, the master of Polish documentary making. The screening of his works on Sunday 9th November will be followed by the  Q&A with the director.
On the same day the film fans will have also an opportunity to see the best selection of Polish animated movies.
Tickets are available from the IFI Box Office on www.ifi.ie/kinopolis and by telephone on 01 679 3477. More information on: https://www.facebook.com/KINOPOLIS.DUBLIN?fref=ts, www.ifi.ie/kinopolis.

Kategoria: Events