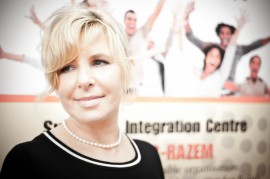 Together Razem Support & Integration Centre, Cork
Ireland Involved Awards 2011 are showcasing the work of volunteers across the country and celebrating Ireland's volunteers.
Kasia was nominated by fellow volunteer Marcin Szczerbinski:
I would like to nominate Kasia Walkowska, a deputy chairman of Together-Razem Support and Integration Centre, who has committed her energy, experience and ingenuity to the service of people with alcohol and drugs problems.
The Together-Razem Centre was originally set up to provide support to Cork's Polish residents experiencing difficulties in their vocational, personal or family lives. We now aim to address the needs of the Eastern European communities in Cork city.
Kasia settled in Ireland in 2005. She first came across our charity as a client, and in 2007 she joined it as a volunteer. She has been active on many fronts, but she made a particular contribution in the area of addiction recovery.
More: http://www.irelandinvolvedawards.ie/2011/community/kasia-walkowska-togetherrazem-centre/

Kategoria: Uncategorized