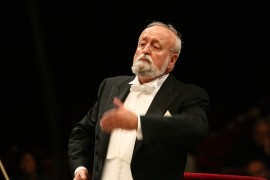 International iconic composer attends festival in Co Kildare The Castletown Concerts 2010
Celebrating the work of Krzysztof Penderecki Krzysztof Penderecki, the Polish composer and conductor, will travel for the first time to Ireland this September 10th – 12th at the invitation of pianist Barry Douglas and Camerata Ireland to attend their festival, The Castletown Concerts 2010, in Celbridge, Co Kildare, as Guest of Honour.
The programme was launched by Dr Martin Mansergh TD, Minister of State at the Department of Finance with special responsibility for the Office of Public Works and the Arts.
The composer will conduct a number of his own works which will include the Threnody (for the Victims of Hiroshima), the piece which launched his international career as a young composer in 1960. A Grammy Award winner in 1987, 1998 and 2001 and a recipient of many honours and awards from universities and governments around the world, Dr Penderecki will also be conferred with an Honorary Doctorate of Music from NUI Maynooth while in Ireland. The concerts will take place in Castletown House and St Patrick's College, Maynooth.
"Krzysztof Penderecki is one of the world's greatest composers and Camerata Ireland and I are honoured that he will be with us this September in Castletown, as well as the many distinguished chamber musicians that will join us to celebrate his work. This is also an exciting opportunity for young Irish musicians to work with Maestro Penderecki for the Threnody performance, one which they will no doubt all remember for many years. We are also delighted to present a recital by the young 21-year-old winner of the 2009 Dublin International Piano Competition, Alexej Gorlatch, and we look forward to working with a local school on a pilot composing project", commented Barry Douglas, Artistic Director of Camerata Ireland and The Castletown Concerts.
The Castletown Concerts is supported by the Arts Council of Ireland, Randox Laboratories, the Office of Public Works, Steinway & Sons, the Embassy of Poland in Ireland.
Tickets from €15. To book, call 1890 305 305 or see www.castletownconcerts.com
Program

Kategoria: Concerts