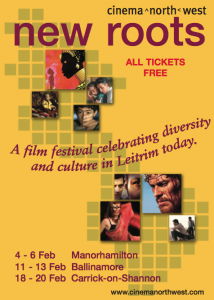 Cinema North West warmly invites you to the New Roots film festival in the Dock Arts Centre, Carrick-on-Shannon, Co Leitrim.
The festival will be launched by Hans Wieland who moved to the North West of Ireland with his family in 1985 and established Neantóg Farmhouse Cheeses. He has been a teacher and worker at The Organic Centre, Rossinver, , Co. Leitrim since 1987. Hans is a Board member of Cinema North West.
About the New Roots film festival
The New Roots film festival will celebrate the many different cultures, countries and creeds which form part of Leitrim's society today. Films will include a wide variety of films to suit all audiences, including the Martin Scorsese films 'The Last Temptation of Christ' and 'Kundun', Irish film-maker Áine O'Brien's 2006 film 'Here to Stay' about the human-side of migration in Ireland, and award-winning Polish film 'The Reverse' which takes a sly look at life in 1950s communist Poland.
CinemobileScreenings will take place in the Cinema North West Cinemobile on the following dates:
* Manorhamilton (New Line, beside fire station), 4th – 6th February
* Ballinamore (sports complex), 11th – 13th February
* Carrick-on-Shannon (The Dock), 18th – 20th February
All screenings are free-of-charge, with tickets available on the door. Booking is recommended for groups.
This project has been funded by the PEACE lll Programme through the European Union's European Regional Development Fund managed for the Special EU Programme Body by Leitrim county council on behalf of County Leitrim Peace lll Partnership.

Kategoria: Festivals