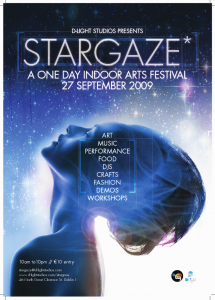 Polish artists invite all to collaborate and have fun.
On Sunday 27th September, 2009,D-light Studios will host Stargaze: a day of art, performance, music, food, creative workshops and relaxation treatments. As the summer festivals draw to a close, D-light Studios will celebrate both the arts and popular culture with this day long indoor chill out event.
Contemporary artist Aine Macken, will curate a collection of 30 of Dublin's most innovative emerging artistic talents showcasing sculpture, photography, painting and installation.
Live music and DJ's will set a relaxed, mellow atmosphere including jazz and acoustic sets from some of the city's finest bands and music makers. The evening will culminate in a series of cultural performances from salsa dancing, burlesque to exotic. Street performers will entertain throughout the day.
 A secluded screening room will also showcase up and coming works by full-length and short film makers, while also featuring music videos and visual music projections.
The holistic zone will include Yoga demonstrations, Reiki and Indian head massage. Meanwhile, the craft area will include interactive experiences such as salsa dancing, live art, origami, knitting circles, creative writing and graffiti demonstrations.
For a fun day out complete with music, art, relaxation, food and more, come and Stargaze with us from 10am to 10pm at D-light Studios Dublin 1, for just €10 entry! Complimentary snacks and refreshments will also be provided on the day.

Kategoria: Events