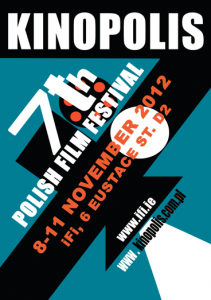 Kinopolis Film Festival returns for the 7th year to showcase the best of Polish films followed by special events and Q&As with renowned Polish actors such as Wojciech Pszoniak and Marian Dziędziel. This cinematic festivity takes place in the Irish Film Institute on November 8th-11th. Filmbase will host the special photo exhibition dedicated to movies screened at the IFI.
The festival was launched by independent filmmaker Dominick O'Cruadhliocht ('My Swastika Documentary') and animator and IADT lecturer Steve Woods in the Mercantile Bar on Thursday, October 25.
Kinopolis 2012 brings numerous cult and contemporary productions that embrace drama & action movies plus animation. Among award-winning titles are 'Rose'(this year's Polish Film Awards), 'Black Thursday' (2011 Montreal World Film Festival – FIPRESCI Prize, 2011 Gdynia Polish Film Festival – Special Jury Award) and Oscar-nominee 'Paths of Hate' (Best Animated Film and a Special Jury Award at Comi-Con).
The audience will meet acclaimed actor Wojciech Pszoniak, who has performed together with Gerard Depardieu, Carmen Maura and Liv Ullmann; actor, theatre screenwriter and lead singer Arkadiusz Jakubik (The Wedding, The Dark House); and actor Marian Dziędziel.
The photo exhibition in Filmbase collects the most enticing pictures of the movies presented at the festival.
Full programme will be available at www.kinopolis.com.pl from October 25.
For more details please contact
Anna Pospieszynska
kinopolisfilmfestival@gmail.com

Kategoria: Events